Vulcanization is the process by which reds, browns, golds, oranges and yellow colors are introduced and formed into the rind of a stone. Jade is formed in the earth's crust, brought to the surface then covered with soil. Over time, moisture leaches down into the jade bringing iron rich nutrients that oxidize and form a skin or rind. Sometimes these stones are found in creeks or in the hills but in Big Sur these "vulcanized" pieces find there way into the ocean and become polished by the sand and waves. Ocean Polished,  vulcanized specimens are among the most rare and highly collectible nephrite jade pieces in the world.
The following pictures were taken outdoors in natural sunlight so the colors are dead on accurate while showing the brilliant colors and contrasts associated with classic Vulcanized pieces.
After reviewing some of these pics during editing, these pieces are even better than I remember. The ocean polish is satin smooth and feels almost greasy to the touch. You can see how the vulcanization and color is more prominent in the pits and crevasses of the stone, absolutely insane "butter" pieces of Ocean Art.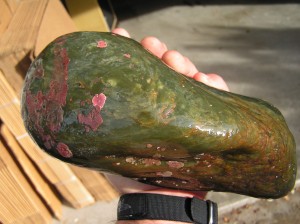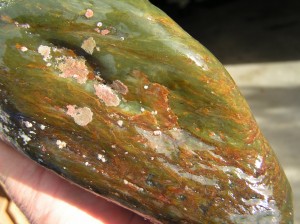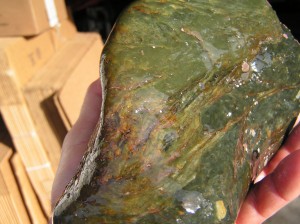 This is another example of vulcanized Jade with an entirely different kind of rind. This piece has a distinctive a silver "swirl" pattern to it and just mesmerizes me the more I look at it.